Posts for: October, 2014
By Howard D. Klein, DMD
October 20, 2014
Now in your adult years, you feel you've functioned pretty well even with a few misaligned teeth. You may also think having them straightened at this point may not be worth the effort and expense.
But there are solid reasons — beyond, of course, the psychological and social benefits gained from a new smile — why straightening teeth even as an adult can be a wise investment. Orthodontics not only enhances your appearance but may also improve your long-term oral health.
Restores proper oral function. Teeth that are aligned properly will tend to function properly. Although you can still chew, speak and smile with teeth that aren't quite aligned properly, over time you'll put more stress on both the teeth and the jaws, which could lead to more wear than what normally occurs with aging. By re-aligning teeth to a more normal position you could be extending the life of your teeth and reducing your risk of other functional problems.
Reduces the risk of periodontal (gum) disease. Some people with misaligned teeth are more susceptible to periodontal disease. Besides difficulties with bacterial plaque removal (a must to avoid gum disease), a person with misaligned teeth can also encounter more defects involving bone and gum tissues like gum recession that can contribute to the progression of gum disease. By straightening teeth (and performing plastic periodontal surgery if needed), we can reduce this risk dramatically — as long as we're performing periodontal treatment for existing gum disease before and during orthodontics.
Facilitates tooth replacement. When we lose a tooth, the mouth's natural mechanism is to move remaining teeth to fill the void left by the lost tooth. This can make it difficult to position a dental implant or similar tooth replacement in a functional and aesthetically appealing way. By applying orthodontics to move drifting teeth back into their proper place, we restore the best condition for achieving success with a tooth replacement.
The best way to know how much you could benefit from orthodontic treatment is to visit us for a full dental evaluation. From there, we can help you decide if treatment for straightening misaligned teeth is right for you.
If you would like more information on orthodontic treatment, please contact us or schedule an appointment for a consultation. You can also learn more about this topic by reading the Dear Doctor magazine article "Why Straighten Teeth."
By Howard D. Klein, DMD
October 20, 2014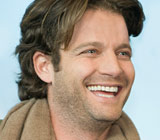 Nate Berkus, author, interior designer and host of his own television program, The Nate Berkus Show, is a consummate professional who has always focused on "helping others love the way they live," as he puts it. Berkus is known as one of America's most beloved go-to-guys for inspiration on the latest design trends. And then there is his captivating smile.
In an exclusive interview with Dear Doctor magazine, Berkus discusses his trademark smile. Unlike most people in Hollywood, his smile is totally natural — he never wore braces or had any cosmetic work. However, Berkus does give credit to his childhood dentist for the preventative healthcare he received as a young boy. Berkus states, "I'm grateful for having been given fluoride treatments and sealants as a child. Healthy habits should start at a young age."
As for his oral hygiene routine today, Berkus says he brushes his teeth at least two times a day, and sometimes three times a day. Berkus is also an avid "flosser" and follows the important flossing advice he learned from his dentist: "Floss the ones you want to keep."
In addition to his design expertise, Berkus is right on the mark with his opinions on oral hygiene. In fact, he inspired our office to put together the following list of facts and oral health tips:
The first step in improving your oral health is to learn good oral hygiene behavior. Simply put, to maintain optimal oral health, you must brush and floss properly so that you thoroughly remove the dental plaque.
The second step is a thorough evaluation system. We are a key part of this step. During your next office visit, we can conduct a thorough examination, review your brushing and flossing techniques, examine the health of your tongue and discuss any questions you have. We can also clean your teeth and ensure that you leave our offices confident with your new oral hygiene routine. And if you don't have an appointment, contact us today to schedule one.
To learn more about improving your oral hygiene, you can continue reading the Dear Doctor magazine article "Oral Hygiene Behavior - Dental Health For Life." And to read the entire interview with Nate Berkus, please see the article "Nate Berkus."