Posts for: March, 2018
By Howard D. Klein, DMD
March 16, 2018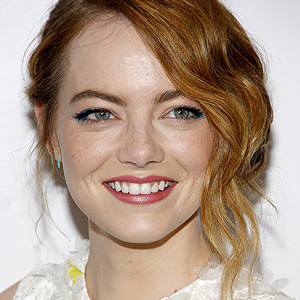 It's no secret that many of Hollywood's brightest stars didn't start out with perfectly aligned, pearly-white teeth. And these days, plenty of celebs are willing to share their stories, showing how dentists help those megawatt smiles shine. In a recent interview with W magazine, Emma Stone, the stunning 28-year-old star of critically-acclaimed films like La La Land and Birdman, explained how orthodontic appliances helped her overcome problems caused by a harmful habit: persistent thumb sucking in childhood.
"I sucked my thumb until I was 11 years old," she admitted, mischievously adding "It's still so soothing to do it." Although it may have been comforting, the habit spelled trouble for her bite. "The roof of my mouth is so high-pitched that I had this huge overbite," she said. "I got this gate when I was in second grade… I had braces, and then they put a gate."
While her technical terminology isn't quite accurate, Stone is referring to a type of appliance worn in the mouth which dentists call a "tongue crib" or "thumb/finger appliance." The purpose of these devices is to stop children from engaging in "parafunctional habits" — that is, behaviors like thumb sucking or tongue thrusting, which are unrelated to the normal function of the mouth and can cause serious bite problems. (Other parafunctional habits include nail biting, pencil chewing and teeth grinding.)
When kids develop the habit of regularly pushing the tongue against the front teeth (tongue thrusting) or sucking on an object placed inside the mouth (thumb sucking), the behavior can cause the front teeth to be pushed out of alignment. When the top teeth move forward, the condition is commonly referred to as an overbite. In some cases a more serious situation called an "open bite" may develop, which can be difficult to correct. Here, the top and bottom front teeth do not meet or overlap when the mouth is closed; instead, a vertical gap is left in between.
Orthodontic appliances are often recommended to stop harmful oral habits from causing further misalignment. Most appliances are designed with a block (or gate) that prevents the tongue or finger from pushing on the teeth; this is what the actress mentioned. Normally, when the appliance is worn for a period of months it can be expected to modify the child's behavior. Once the habit has been broken, other appliances like traditional braces or clear aligners can be used to bring the teeth into better alignment.
But in Stone's case, things didn't go so smoothly. "I'd take the gate down and suck my thumb underneath the mouth appliance," she admitted, "because I was totally ignoring the rule to not suck your thumb while you're trying to straighten out your teeth." That rule-breaking ended up costing the aspiring star lots of time: she spent a total of 7 years wearing braces.
Fortunately, things worked out for the best for Emma Stone: She now has a brilliant smile and a stellar career — plus a shiny new Golden Globe award! Does your child have a thumb sucking problem or another harmful oral habit? For more information about how to correct it, please contact us or schedule an appointment for a consultation. You can learn more in the Dear Doctor magazine article "How Thumb Sucking Affects the Bite."
By Howard D. Klein, DMD
March 01, 2018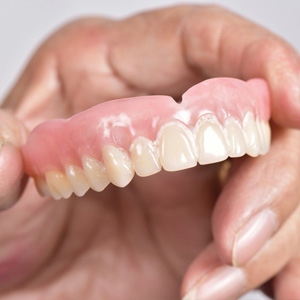 After a long struggle with dental disease, you have finally lost the last of your remaining teeth.  Like over a quarter of Americans in their 60s and 70s, this unfortunate development can have a profound impact on your health and self-image.
While there are a number of advanced methods for replacing lost teeth, there's one tried and true option that's centuries old — the removable denture. It's the option millions of people have chosen to lessen the impact of missing teeth.
Fashioned properly, removable dentures restore the form and function you once had with your natural teeth. The prosthetic (false) teeth are precisely placed in an acrylic, gum-colored base that closely follows the contours of your gums. Because they're removable, they're fairly easy to clean and maintain.
They do have a disadvantage, though, and it's related to bone health after tooth loss. Like other living tissues, bone has a life cycle: as older cells die, new cells form to take their place. The forces your teeth generate when you chew stimulate new bone growth. But without teeth to provide this stimulation, new bone won't keep up the pace of replacement at a healthy rate. As a result you may gradually lose bone, as much as a quarter of its normal width within a year of losing a tooth.
Dentures don't transmit any stimulation to the gum and bone from chewing. Furthermore, the compressive forces transmitted to the gum and underlying bone tissue contributes to bone loss. As the bone continues to diminish, your denture fit becomes looser to the point you will eventually need them relined with new acrylic material or have a new set made.
There is another alternative when patients loose all of their teeth: an implant-supported removable denture. Dental implants can be used to keep the dentures more secure and can also slow or even halt bone loss where the implants are placed. In this case we strategically place a few implants to serve as supports for a removable denture. The denture has connection points that join up with the implants to hold it more securely in place. As few as two implants are needed in the lower jaw, while the upper jaw does better with three or four implants.
Losing all your teeth can be traumatic, but there are effective ways to overcome it. With new technology, the traditional restoration of removable dentures may be the vehicle for achieving that.
If you would like more information on restoring missing teeth with dentures, please contact us or schedule an appointment for a consultation. You can also learn more about this topic by reading the Dear Doctor magazine article "Removable Full Dentures."