Posts for: August, 2020
By Howard D. Klein, DMD
August 12, 2020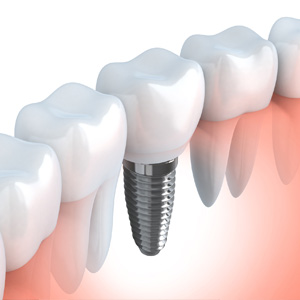 Unlike other tooth replacement options, dental implants require a surgical procedure. But don't let your imagination run wild — the procedure is relatively minor and easy for most people to undergo.
Implants are unique among restorations because they replace a tooth's root. A metal titanium post, substituting for the root, must be surgically placed into the jawbone. While the procedure itself is simple and no more involved than a tooth extraction, it does require careful attention to detail before, during and afterward.
Our first step is to examine the target site with x-rays (often CT scanning) to pinpoint the best location for placement. This is critical because where we place the implant will have a huge bearing on how attractive and natural the implant finally appears. From this evaluation we frequently create a surgical guide.
Surgery begins with a local anesthesia to completely numb the site. You will feel no pain during the procedure and only minimal discomfort for a few days afterward. We then make small incisions in the gums to access the bone and create a small channel or hole.
Using the surgical guide, we then initiate a drilling sequence that gradually increases the size of the channel until it's the size and shape of the implant post. One thing we must do at this point is take our time: we use gentle pressure and water-cooling to avoid overheating and damaging the bone.
Once we're finished with drilling we remove the implant from its sterile packaging and imbed it directly into the prepared channel. It's then a matter of verifying the location with x-rays and then closing the gum tissue with self-absorbing sutures if necessary.
Most patients only need mild pain medication like aspirin or ibuprofen to manage discomfort afterwards. You won't even notice it in a week or less. After several weeks in which the bone grows and adheres to the implant (a process called osseointegration), you'll be ready for the final step, attaching the life-like porcelain crown to the implant.
Although the process can take several weeks to months, your discomfort should be minimal at any stage. In the end, your patience will be rewarded with a new, more attractive smile.
If you would like more information on the process of obtaining dental implants, please contact us or schedule an appointment for a consultation. You can also learn more about this topic by reading the Dear Doctor magazine article "Dental Implant Surgery."
By Howard D. Klein, DMD
August 02, 2020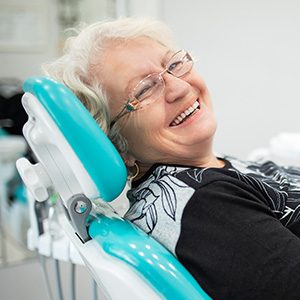 As we get older, we become more susceptible to chronic health conditions like diabetes, heart disease or arthritis. We can also begin to see more problems with our teeth and gums.
Whether it's ourselves or an older loved one, oral health deserves a heightened focus as we age on prevention and prompt treatment. Here's what you can do to protect you or a family member's teeth and gums during the aging process.
Make accommodations for oral hygiene. Keeping your mouth clean of disease-causing plaque is important at any age. But it may become harder for someone getting older: Manual dexterity can falter due to conditions like arthritis or Parkinson's Disease. Older adults with decreased physical ability may benefit from larger gripped toothbrushes or those modified with a bicycle handle. Electric power brushes are another option, as are water irrigators that can do as effective a job of flossing as threaded floss.
Watch out for "dry mouth." Older adults often develop chronic dry mouth due to saliva-reducing medications they might be taking. It's not just an unpleasant feeling: Inadequate saliva deprives the mouth of acid neutralization. As a result, someone with chronic dry mouth has a higher risk for tooth decay. You can reduce dry mouth by talking with your doctor about prescriptions for you or a family member, drinking more water or using saliva boosting products.
Maintain regular dental visits. Regular trips to the dentist are especially important for older adults. Besides professional cleanings, dentists also check for problems that increase with aging, such as oral cancer. An older adult wearing dentures or other oral appliances also needs to have them checked periodically for any adverse changes to fit or wear.
Monitor self-care. As long as they're able, older adults should be encouraged to care daily for their own teeth. But they should also be monitored in these areas, especially if they begin to show signs of decreased mental or physical abilities. So, evaluate how they're doing with brushing and flossing, and look for signs of tooth decay or gum disease.
Aging brings its own set of challenges for maintaining optimum dental health. But taking proactive steps and acting quickly when problems arise will help meet those challenges as they come.
If you would like more information on dental care for older adults, please contact us or schedule an appointment for a consultation. You can also learn more about this topic by reading the Dear Doctor magazine article "Aging & Dental Health."