Posts for tag: partial denture
By Howard D. Klein, DMD
July 21, 2016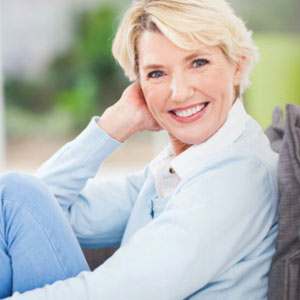 In an ideal situation, you would transition from a missing tooth to a permanent replacement with as little time in between as possible. Unfortunately, reality can intrude on the best of intentions.
For example, dental implants are one of the best ways to regain the form and function of a lost tooth. They are, however, initially expensive, especially if you're replacing multiple teeth. Your financial ability may force you to wait — which means you need a solution now, if only temporarily.
Fortunately, a removable partial denture (RPD) could be the temporary solution you're looking for. There are various kinds and all quite affordable; one of the more versatile is a flexible version made of a form of nylon. Due to its thermoplasticity, the nylon is quite pliable when heated and can be easily molded into a denture base with attaching prosthetic teeth. They're comfortable to wear and attach to the remaining teeth at the gum line with flexible, finger-like clasps.
 RPDs are designed as a transitional replacement between tooth loss and a permanent restoration such as implants, bridges or permanent dentures. Their light weight, comfort and affordability also make them tempting to consider as a permanent replacement.
They do, however, have some drawbacks that make them less desirable for long-term use. They weren't designed for relining or repair, so such efforts can be difficult. The clasp holding them in place may also trap food and bacteria that increase the risk of dental disease to the gums and remaining teeth. You can minimize some of these weaknesses by properly cleaning and maintaining the RPD, and taking them out at night to inhibit the growth of bacteria while you sleep.
Mainly, though, you should primarily consider a RPD as a temporary bridge between lost teeth and a permanent restoration. To that end, we'll work with you to develop a treatment and finance plan that will help you achieve a more permanent and satisfying restoration.
If you would like more information on teeth replacement options, please contact us or schedule an appointment for a consultation. You can also learn more about this topic by reading the Dear Doctor magazine article "Flexible Partial Dentures."
By Howard D. Klein, DMD
June 25, 2015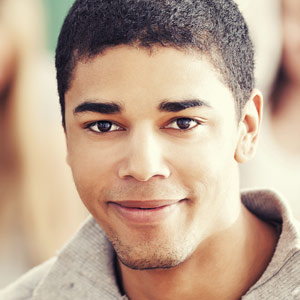 Besides reduced biting and chewing function, a missing tooth can cause an embarrassing inhibition to healthy social interaction. This can be especially so for teens who greatly value peer relationships and acceptance.
Be that as it may, we typically discourage a permanent replacement for teens with a missing tooth, particularly dental implants. While we value a patient's psychological needs, the long-term effect on dental health may be too great to advise otherwise.
The effect we're concerned with involves jaw growth and development. Although a person's permanent teeth have usually all erupted by early adolescence, the jaws continue to grow until the late teens or early twenties. Natural teeth can adapt to this growth because the periodontal ligament that holds them in place allows for incremental tooth movement. The teeth move in response to jaw growth and are thus able to maintain their proper relationship and alignment in the jaw as growth occurs.
Dental implants, on the other hand, are imbedded into the jaw bone: they, therefore, can't move like natural teeth and thus can't adjust their position with jaw growth, particularly the upper jaw as it grows forward and down. This can result in the implants appearing as though they are left behind or retreat into the jaw. It can also affect the position of the gums and inhibit their growth around the implants.
It's best then to hold off implants and other permanent restorations until the jaw has finished developing. That, however, isn't always easy to determine: specialized x-ray diagnostics may help, but it's not an exact science. Your input as a parent will also be helpful, such as whether you've noticed the end of growth spurts (not changing clothes or shoe sizes as often) or your child's recent similarity in appearance to other adult members of your family. It thus becomes a judgment call, based on examination and experience, as to whether it's safe to proceed with implants — and may require erring on the side of caution.
In the meantime, there are temporary restorations that can improve appearance while you wait for the appropriate time to undertake a permanent restoration. Two of the most useful are removable partial dentures (RPDs) or a bonded bridge, a less invasive form of the traditional bridge. With a proper assessment we can advise you on which option is your best choice.
If you would like more information on tooth restorations for teenagers, please contact us or schedule an appointment for a consultation. You can also learn more about this topic by reading the Dear Doctor magazine article "Teenagers & Dental Implants."
By Howard D. Klein, DMD
December 04, 2014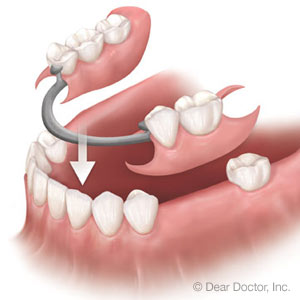 Modern dentistry offers several great ways to permanently replace missing teeth, including high-tech dental implants and traditional fixed bridgework. But sometimes, for one reason or another, it isn't possible to have these treatments done right away. If you need an aesthetic way to temporarily replace missing teeth, a flexible partial denture could be the answer you're looking for.
Certain kinds of removable partial dentures (RPDs) can be used as permanent tooth replacement systems, especially for people who aren't candidates for dental implants or fixed bridges. But in the past, if you needed a temporary tooth replacement, one of the few alternatives was the type of rigid RPD often called a "flipper." This consists of a firm, relatively thick acrylic base that supports one or more lifelike replacement teeth. It attaches to the "necks" of existing natural teeth via metal clasps, which gives it stability and strength.
However, the same rigidity and thickness that gives these rigid RPDs their durability can make them uncomfortable to wear, while the acrylic material they are made of is capable of staining or breaking. Over time, the RPDs are prone to coming loose — and they are also easy to flip in and out with the tongue, which gives them their nickname.
Flexible partial dentures, by contrast, are made of pliable polyamides (nylon-like plastics) that are thin, light and resistant to breakage. Instead of using metal wires to attach to the teeth, flexible RPDs are held securely in place by thin projections of their gum-colored bases, which fit tightly into the natural contours of the gumline. Their elasticity and light weight can make them more comfortable to wear. Plus, besides offering aesthetic replacements for missing teeth, their natural-looking bases can cover areas where gums have receded — making existing teeth look better as well.
All RPDs must be removed regularly for thorough cleaning — but it's especially important for flexible RPD wearers to practice excellent oral hygiene. That's because the projections that hold them in place can also trap food particles and bacteria, which can cause decay. And, like most dentures, RPDs should never be worn overnight. Yet with proper care, flexible RPDs offer an inexpensive and aesthetic way to temporarily replace missing teeth.
If you have questions about removable partial dentures, please contact us or schedule an appointment for a consultation.