Posts for tag: periodontal disease
By Howard D. Klein, DMD
April 26, 2017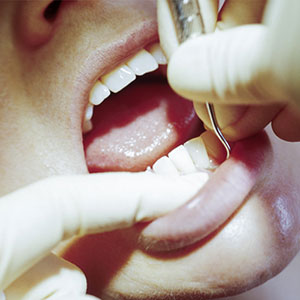 Periodontal (gum) disease is a serious infection that can damage more than periodontal tissues — supporting bone structure is also at risk. Any bone loss could eventually lead to tooth loss.
To stop it from causing this kind of damage, we must match this disease's aggressiveness with equally aggressive treatment. The various treatment techniques all have the same goal: to remove bacterial plaque, the source of the infection, from all oral surfaces, including below the gum line. Buildup of plaque, a thin film of food particles, after only a few days without adequate brushing and flossing is enough time to trigger gum disease.
The basic removal technique is called scaling, using hand instruments called scalers to manually remove plaque and calculus (hardened plaque deposits) above or just below the gum line. If the disease or infection has advanced to the roots, we may use another technique called root planing in which we shave or "plane" plaque and tartar from the root surfaces.
Advancing gum disease also causes a number of complex problems like abscesses (localized infections in certain areas of gum tissue) or periodontal pockets. In the latter circumstance the slight normal gap between tooth and gums becomes deeper as the tissues weaken and pull away. This forms a void or pocket that fills with inflammation or infection that must be removed. Plaque buildup can also occur around furcations, the places where a tooth's roots divide off from one another.
It may be necessary in these more complex situations to perform a procedure known as flap surgery to gain access to these infected areas. As the name implies, we create an opening in the gums with a hinge, much like the flap of a paper envelope. Once the accessed area has been cleansed of plaque and infected tissues (and often treated with antibiotics to stop further infection), the flapped tissue is closed back in place and sutured.
To avoid these advanced stages it's important for you to see us at the first sign of problems: swollen, red or bleeding gums. Even more important is to reduce your risk for gum disease in the first place with dedicated daily brushing and flossing to remove plaque and regular dental visits for more thorough cleaning.
Gum disease can be devastating to your long-term dental health. But with diligent hygiene and early aggressive treatment you can stop this destructive disease in its tracks.
If you would like more information on treating gum disease, please contact us or schedule an appointment for a consultation. You can also learn more about this topic by reading the Dear Doctor magazine article "Treating Difficult Areas of Periodontal Disease."
By Howard D. Klein, DMD
November 15, 2015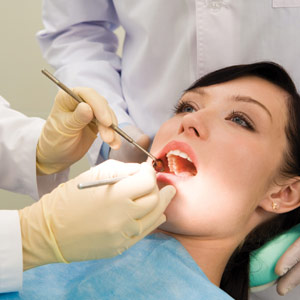 Surgical treatment for periodontal (gum) disease can go a long way toward restoring your mouth to good health; however, it does not change your susceptibility to the disease. That's why we recommend that you come in regularly for periodontal cleanings after your treatment. Here are some frequently asked questions about keeping your mouth healthy after gum disease treatment.
How often do I have to come in for periodontal cleanings?
There's no "one-size-fits-all" answer to that question: It really depends on your individual situation. For example, some individuals may have a more aggressive form of periodontal disease that requires more frequent periodontal maintenance (PM) treatments to maintain control. Others may have greater success controlling the buildup of disease-causing plaque with at-home oral hygiene measures, and therefore need PM less often. However, for people with a history of periodontal disease, getting PM treatments at a three-month interval may be a good starting point.
What happens at a periodontal maintenance appointment?
A thorough cleaning of the crown and root surfaces of the teeth, aimed at removing sticky plaque and hardened dental calculus (tartar), is a big part of PM treatments — but there's much more. You'll also receive a thorough clinical examination (including oral cancer screening), a review of your medical history, and x-rays or other diagnostic tests if needed. The status of any ongoing periodontal disease will be carefully monitored, as will your success at maintaining good oral hygiene. Decisions about further treatment will be based on the results of this examination.
What else can I do to keep gum disease at bay?
Keeping your oral hygiene in top-notch condition — which includes effective brushing and flossing every day — can go a long way toward controlling gum disease.  In addition, you can reduce risk factors by quitting tobacco use and eating a more balanced diet. And since inflammatory conditions like diabetes, arthritis and cardiovascular disease can make periodontal disease worse (and vice versa), keeping these conditions under control will greatly benefit both your oral health and your overall health.
If you have additional questions about maintaining oral health after gum disease treatment, contact us or schedule an appointment.
By Howard D. Klein, DMD
March 25, 2015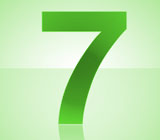 Periodontal (gum) disease can lead to serious infection and even loss of teeth; but it can easily be prevented. Here are seven things you can do to prevent gum disease — or stop it in its tracks if you already have it.
Understand the causes of gum disease. Diseases of periodontal (from the root words meaning "around" and "tooth") or gum tissues start with bacteria collecting on your teeth, in the areas where the teeth and gums meet. The bacteria, called plaque or biofilm, irritate the surrounding tissues and cause them to become inflamed and swollen, and to bleed easily on contact. This condition is called gingivitis.
Brush correctly and effectively. Brushing twice a day is not just to polish your teeth to pearly whiteness. An important reason to brush is to remove the daily coating of plaque from your teeth. At your next dental appointment, ask me or our staff to show you the most effective way to brush.
Floss every day. Daily flossing removes the plaque that settles in between your teeth, in places where your brush can't reach.
Have regular professional cleanings. Our hygienist will remove plaque that you missed by brushing and flossing. This plaque hardens into a material called calculus or tartar. In a professional cleaning your hygienist uses special tools to scrape these materials away. The hygienist also measures the distances between your gums and teeth to make sure that inflamed gums have not separated from the teeth, forming pockets in which the bacteria continue to grow.
Recognize the signs of developing gum disease. These signs include any of the following: gums that bleed easily when you brush or floss; bad breath; red or swollen gums; and sensitive teeth.
Stop smoking. If you haven't stopped smoking for your heart or lungs, here is another reason to quit. Smokers are more likely to develop periodontal disease than nonsmokers. Smoking masks the effects of gum disease, so smokers are less likely to notice the symptoms, allowing the disease to progress to a greater degree before they seek help.
See our office right away if your teeth become loose or your gums become red and swollen. If inflamed gum tissues do not heal, the disease continues to progress. The tissues that attach your teeth to your bone, called ligaments, are lost as pockets deepen as the infection advances. Your gums may also become red, swollen, and painful. As the infection gets worse it eats away the bone around your teeth, causing the teeth to loosen and fall out.
So start with prevention and stop periodontal disease in its early stages.
Contact us today to schedule an appointment to discuss your questions about gum disease. You can also learn more by reading the Dear Doctor magazine article "Warning Signs of Periodontal (Gum) Disease."