Posts for tag: pregnancy
By Howard D. Klein, DMD
September 12, 2018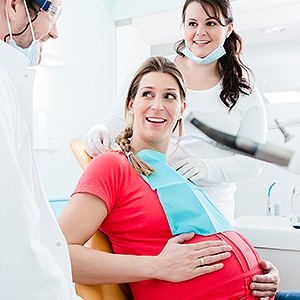 Pregnancy creates enormous changes in your physical body. These changes, especially on the hormonal level, can impact many aspects of your health including teeth and gums.
While it's easy to let dental care take a back seat to other health concerns, you should actually pay close attention to it while you're expecting. Here are 4 things to focus on during pregnancy to avoid problems with your dental health.
Don't avoid dental work unless otherwise advised. You may be concerned about undergoing dental procedures during pregnancy, especially those that involve anesthesia. But both the American Congress of Obstetricians and Gynecologists (ACOG) and the American Dental Association (ADA) encourage pregnant women to continue regular dental visits for cleanings and checkups. And unless your obstetrician advises otherwise, it's usually safe to undergo dental work that can't wait.
Be on the lookout for pregnancy gingivitis (gum disease). Because of the hormonal changes that occur during pregnancy, your gums could be more susceptible to gum disease caused by plaque buildup. That's why you should be on alert for signs of a gum infection like swollen, reddened or bleeding gums. And be sure to practice diligent, daily brushing and flossing to remove disease-causing plaque, as well as regularly visiting your dentist for professional cleanings.
Make sure your diet is "tooth" friendly. Because of the changes in your body, you may experience food cravings that alter your normal dietary habits. So as much as possible, try to keep your food choices in line with what's best for your teeth and gums: minimize your sugar intake (a prime food source for disease-causing bacteria); and focus on nutritiously balanced meals and snacks.
Keep your entire healthcare team informed. When you make your next dental appointment, tell your dentist you're pregnant and how far along, any medications and supplements you're taking, or any complications you may be experiencing. This information could have a bearing on how your dentist approaches any treatment. Likewise, let your obstetrician know about any issues with your teeth and gums, as well as any suggested dental work you may need.
If you would like more information on dental care during pregnancy, please contact us or schedule an appointment for a consultation. You can also learn more about this topic by reading the Dear Doctor magazine article "Dental Care during Pregnancy."
By Howard D. Klein, DMD
March 31, 2018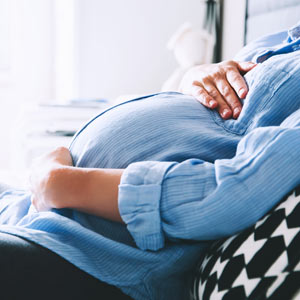 Learning you're pregnant can be a joyous moment. But it also means life is about to change as you focus on protecting you and your child from anything that endangers your health.
Because of these new concerns you might even hesitate about receiving dental care, especially involving anesthesia. But several medical organizations representing doctors, OB-GYN physicians and dentists wholeheartedly recommend continuing regular dental visits during pregnancy.
In fact, you should continue them because you're pregnant: physical and hormonal changes during pregnancy could increase your risk of dental disease.
For, example, your consumption of carbohydrates (like sugar) could increase, which in turn increases your risk of tooth decay. You'll also need to be more concerned about dental plaque, a thin bacterial film on your teeth that can cause disease. Hormonal changes during pregnancy may make you more sensitive to plaque, and thus more susceptible to disease — especially periodontal (gum) disease.
In fact, a specific form of gum disease called pregnancy gingivitis affects around 40% of expectant women at some point in their pregnancy. And if you already have gum disease, pregnancy could worsen it. Left untreated the disease could develop into more severe periodontitis, which may significantly damage your teeth's support structures far below the gum line, leading to bone loss, which could result in the eventual loss of your teeth. Daily brushing and flossing, regular cleanings and checkups and, if your dentist prescribes it, antibacterial mouth rinses can help you stay ahead of it.
But what about other procedures while you're pregnant? It may be best to wait on elective treatments for cosmetic purposes until after the baby is born. But some situations like deep tooth decay that could require a root canal treatment may become too serious to postpone.
Fortunately, several studies have shown it's safe for pregnant women to undergo many dental procedures including tooth fillings or extractions. And receiving local anesthesia doesn't appear to pose a danger either.
The important thing is to remain diligent with your own personal hygiene — brushing and flossing — and making other healthy choices like eating a nutritious diet. And be sure to let your dentist know about your pregnancy to help guide your dental treatment over the next few months.
If you would like more information on taking care of your teeth and gums during pregnancy, please contact us or schedule an appointment for a consultation.
By Howard D. Klein, DMD
April 09, 2015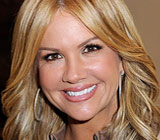 We've all heard of morning sickness, but did you know that it's also not unusual for pregnant women to experience oral discomfort? This is what Entertainment Tonight co-host Nancy O'Dell discovered when she was expecting her daughter, Ashby. In an exclusive interview with Dear Doctor magazine, Nancy described how her gums became extra-sensitive during pregnancy, leading her dentist to diagnose her with "pregnancy gingivitis" ("gingival" – gum tissue; "itis" – inflammation).
"While my dental health has always been relatively normal, pregnancy did cause me some concern about my teeth and gums," Nancy said. "With my dentist's advice and treatment, the few problems I had were minimized," she said.
It's especially important to maintain good oral hygiene during pregnancy with routine brushing and flossing, and regular professional cleanings. This will reduce the accumulation of the dental bacterial plaque that leads to gum disease. Both mother and child are particularly vulnerable to these bacteria during this sensitive time. Scientific studies have established a link between preterm delivery and the presence of periodontal (gum) disease in pregnant women. Also, the elevated hormone levels of pregnancy cause the tiny blood vessels of the gum tissues to become dilated (widened) and therefore more susceptible to the effects of plaque bacteria and their toxins. Gingivitis is especially common during the second to eighth months of pregnancy.
Excess bacterial plaque can occasionally lead to another pregnancy-related condition in the second trimester: an overgrowth of gum tissue called a "pregnancy tumor." In this case, "tumor" means nothing more than a swelling or growth. Pregnancy tumors, usually found between the teeth, are completely benign but they do bleed easily and are characterized by a red, raw-looking mulberry-like surface. They can be surgically removed if they do not resolve themselves after the baby is born.
If you are experiencing any pregnancy-related oral health issues, please contact us today to schedule an appointment for a consultation. If you would like to read Dear Doctor's entire interview with Nancy O'Dell, please see "Nancy O'Dell." Dear Doctor also has more on "Pregnancy and Oral Health: Everything You Always Wanted To Know But Never Knew To Ask."